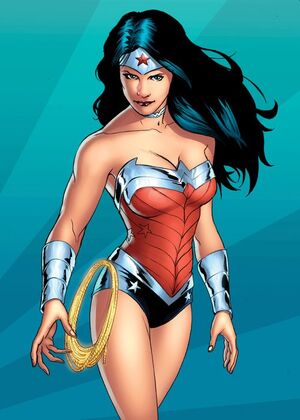 Wonder Woman is a playable character in Injustice: Return of the Gods, the sequel to Injustice: Gods Among Us. She was confirmed in a gameplay video, along with Green Lantern.
Events of Injustice
Edit
Super Move
Edit
Wonder Woman wraps her lasso around her opponents neck and pulls it very hard, which chokes them. She slams them onto the ground and steps on their throat before throwing them into the air and pulling them back down.
Character Trait
Edit
She switches between her sword, shield, and lasso as usable weapons.
Classic
Kingdom Come
Odyssey
Earth-2
Star Sapphire
Agent Diana Prince