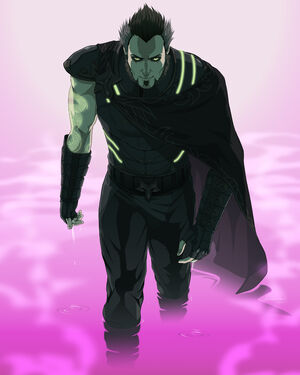 Ra's al Ghul is a playable character in Injustice: Return of the Gods, sequel to Injustice: Gods Among Us. He was confirmed in the second story trailer, where he was seen having a conversation with Batman, and was later seen fighting him.
Events of Injustice
Edit
Super Move
Edit
Ra's uses his sword to slice his opponent and then stab them in the chest. He summons several shadows to come to his aid and viciously beat his opponent before ripping the sword out violently and punching them in the face.
Character Trait
Edit
Ra's becomes much more resistant to any form of attack and he becomes much quicker and strongers. He can also be seen with the liquids of the Lazarus Pit dripping off of him.