This article, Lex Luthor (Dimensional Rift), is property of Copicat123. Please do not edit this article unless given permission to do so.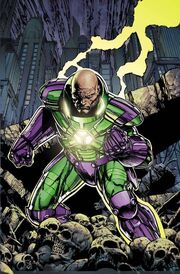 The heir to the Luthor fortune and owner of Lexcorp, presidential candidate Lex Luthor is a shadowy manipulator of illegal events. He often funds criminal organisations and projects, always to his own long-term gain. However, if anybody interferes, be it Superman or anyone else, Luthor is not above donning his mighty warsuit and laying the smackdown on his rivals.
Intro/Outro
Edit
Intro: Lex Luthor lands on the arena, holding a glass of champagne. He takes a drink before throwing it away carelessly, stating that he will simply buy more.
Outro: Lex Luthor walks over to the opponent and blasts a hole in their head. He then walks away, telling someone over the communicator to get a special drink ready.
Character Trait - Brains and Brawn - Luthor taps his chest, enabling three powerful chest beams to be fired from his logo.
Super Move - Million Dollar Beatdown - Luthor focuses a blast with encases the opponent in a laser net. While they are trapped, he repeatedly smashes them in the gut before backhanding them to the other side of the arena.
Warsuit - Default costume unlocked at start.
Silver Age - Can be bought with in-game credits.
Earth-3 - Can be bought with in-game credits.
Orange Lantern - Reward for completing Classic Battle with Lex Luthor.
Classic - Included in the 'Blast From The Past' skin pack.
Animated - Included in the 'Only Two Dimensions' skin pack.
Fixer - Included in the 'Dimensional Counterpart' skin pack.
Community content is available under
CC-BY-SA
unless otherwise noted.