WELCOME TO THE INJUSTICE LEAGUE OF LIGHT BATTLE ARENA!
Every week for 10 weeks, we will have battles just like before. Characters will be picked from the game, but you will get to choose who wins, by simply commenting below.        
BATMAN-                                                                                                                              BATMAN (BEYOND)-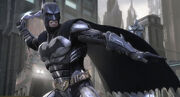 See you this next Saturday to see who is the champion of this exciting battle!  
Edit