This article, Green Arrow (Dimensional Rift), is property of Copicat123. Please do not edit this article unless given permission to do so.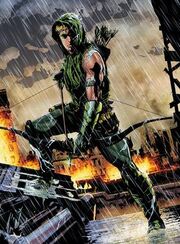 Stranded on a remote island, Oliver Queen had to learn archery in order to survive. Now he applies those skills to rid Star City of criminals as the hero Green Arrow!
Intro/Outro
Edit
Intro: Green Arrow is seen sliding down a zipline, before releasing himself and firing an arrow that releases foam. He bounces off of it before facing the opponent and making a quip.
Outro: Green Arrow fires a foam arrow at the opponent, encasing them. He then fires a flare arrow and disappears.
Character Trait - Endless Quiver - Green Arrow can cycle through normal, explosive, electric, ice and flare arrows, which augment Green Arrow's special moves. The new flare arrows daze the opponent, rearranging their controls for a short time.
Super Move - More That A Gimmick - Green Arrow fires a bola arrow at the opponent. He then freezes them and explodes them into the air. Finally, he fires a signal arrow at them, which does nothing for a second. The opponent is then hit by the Arrowmobile before riding away.
New 52 - Default outfit unlocked at start.
Pre-52 - Can be bought with in-game credits.
Island - Can be bought with in-game credits.
Red Arrow - A reward for completing Classic Battle with Green Arrow.
Artemis - Reward from the mobile app.
Classic - Included in the 'Blast From The Past' skin pack.
Animated  - Included in the 'Only Two Dimensions' skin pack.
Hawkeye - Included in the 'Dimensional Counterpart' skin pack.
Community content is available under
CC-BY-SA
unless otherwise noted.