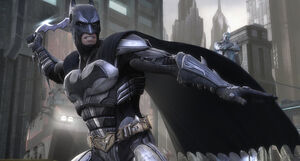 Batman is a playable character in Injustice: Return of the Gods, the sequel to Injustice: Gods Among Us, and was one of the first six characters to be announced.
Events of Injustice
Edit
Super Move
Edit
Batman throws a batarang into his opponent, and it summons a swarm of bats to attack them. While this happens, Batman summons his Batcycle. He hops on, shoots them, causing the bats to fly away, and he runs them over.
Character Trait
Edit
Batman activates a camouflage device which prevents the opponent from correctly performing attacks on him.